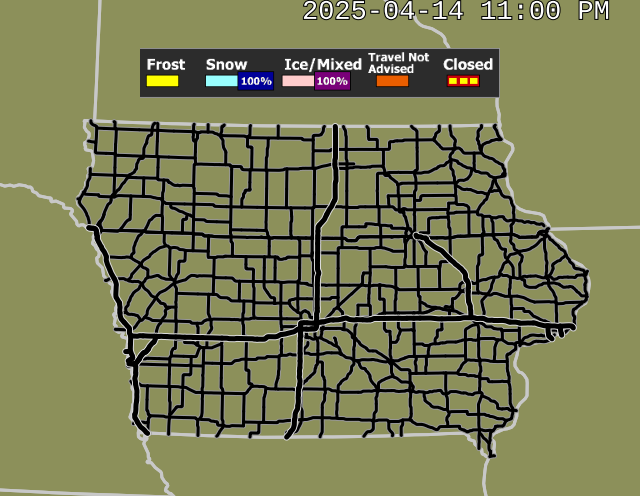 Normal or wet: Normal winter driving conditions exist. This includes dry and wet roadways, but any precipitation on the road is not freezing. A wet condition could result in reduced traction.
Partially or mostly covered: Rain, frost, ice, sleet/slush, snow or a mixture of precipitation is causing the roadway to be partially covered (up to 50 percent) or mostly covered (more than 50 percent). Drivers may experience periods when roadway markings are difficult to see. With continued precipitation, the roadway surface may become slick, snow packed and rutted.
Completely covered: The roadway is completely covered with precipitation (i.e., rain, frost, ice, sleet/slush, snow or a mixture). Roadway markings are obscured making it difficult to differentiate between the roadway and its surroundings. These conditions can make travel difficult and hazardous.
Travel not advised: The roadway has deteriorated to the point that it is very dangerous to travel. Emergency vehicles and snow removal equipment may be called off of the roadway due to the conditions. Some weather conditions can be severe enough that roadway treatments, such as salt or sand, are not effective. In the event of an emergency, it may be impossible to get emergency vehicles to the scene.
Impassable or closed: A road that is impassable is blocked by snow or vehicles. A road that is closed has travel restricted by barricades, fence, gate, equipment/vehicles or other physical means. Iowa law prohibits motorists from entering a closed roadway or moving traffic control devices.